Les Glycines
350.0
From
350 €

par semaine
Holiday rentals
Contact us directly
Jean Duchesne
08 90 21 70 70
Property Code :
Contact by email
This establishment has placed its trust in Charme et Traditions since i 2017
Description

2 bedroom

4 hosts
Individual house, in a village, at the country

Chimney
An old restored dependency in the heart of the village of Argentonnay, on a steep site. Large terrace 36 m² wood overlooking the Valley of the Argenton, close the housing of the owner unopposed. Beautiful panoramic views on a natural Valley, embellished by the singing of birds, in zone Natura 2000. Access River, the Argenton at 300 m and the Hautibus Lake at 400 m for fishing (fishing lodge). Pedestrian access by the rise of Wisteria and access car by the street of the tanneries. Private on-site parking. On the ground floor, 30 m² living room, very bright, opening onto the terrace, kitchen equipped-living room (internet access, pellet wood stove), wc. Upstairs, Ch1 (11 m²-2 beds 90 X 200), Ch2 (9, 70 m² - bed 160 X 200), bathroom. Beds made on arrival. All loads and heating included. All shops in 800 m, bakery at 400 m. Fishing, walks, canoeing at Hautibus Lake at 400 m. The vineyards of Anjou from 6km, Park Valley to Masai 8 mn aquatic area, 2 slides, 1 children's pool, picnic area, Thouars (city of Art and history) 22 min, Parc Oriental de Maulévrier (the oldest in europe) 25 min, Châteaux de la Loire and Saumur 45 mn, Abbey of Fontevraud 45 mn, Puy du Fou 50 mn, Futuroscope 1h15mn, Marais Poitevin 1h20mn.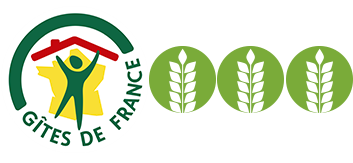 Plan
Open Google Map
Les Glycines
3 Montée des Glycines
Argenton-les-Vallées
79150 Argentonnay, France
Tarifs
Price details per week
Rooms details

2 bedroom
To book this room and find out about availability
08 90 21 70 70
Property Code :
Contact by email
To book this room and find out about availability
08 90 21 70 70
Property Code :
Contact by email
Services and equipment
Populaires
Private parking
Indoor equipment
Television, board games, chimney
Outdoor equipment
Terrace, barbecue, garden furnitures
Available services
Sheets and towels, quotidian cleaning
For your comfort
-
Appliances
Washing machine, dishwasher, deep freezer, microwave, oven, fridge
Nearby activities
Bookshelf, fishing, golf, hiking, horse riding
spoken languages
English, french, german
Means of payment
Cheque, bank card
Sécurité
-
Thematic stays
This establishment does not offer thematic stays
Reviews
Details of the notices

You stayed in this property ?

Leave an opinion
Bel air sur gironde
06 , 2017
Gîte calme et agréable