Au Clos Fleuri
320.0
From
320 €

par semaine
Holiday rentals
Contact us directly
Veronique CHIRON
08 90 21 70 70
Property Code :
Contact by email
This establishment has placed its trust in Charme et Traditions since l 2014
Description

1 bedroom

2 hosts
Individual house, isolated, at the country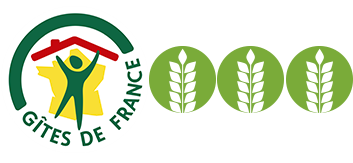 Plan
Open Google Map
Au Clos Fleuri
La Faucherie
85130 La Verrie, France
Tarifs
Price details per week
Rooms details

1 bedroom
Équipements
Hairdrier, television, wifi, air conditioning, restroom, shower
To book this room and find out about availability
08 90 21 70 70
Property Code :
Contact by email
Services and equipment
Populaires
Private parking
Indoor equipment
Television, board games
Outdoor equipment
Terrace, barbecue, garden furnitures
Available services
Sheets and towels, region informations
For your comfort
-
Appliances
Washing machine, deep freezer, microwave, oven, fridge
Nearby activities
Bowling, golf, hiking
spoken languages
French
Means of payment
Cheque, holiday vouchers
Sécurité
-
Thematic stays
This establishment does not offer thematic stays
Reviews
Details of the notices

You stayed in this property ?

Leave an opinion
Anita
07 . 2018
Véronique et Dominique
Sylvie,claudine,camille
08 j 2017
Une semaine du 1 et au 8 juillet 2017
Corinne
28 a 2016
Ma-gni-fique !!
Ferry
12 , 2016
Super adresse