For 10 years, we have been the reference for bed and breakfasts and gites in France.
Propose your property to our selection, or obtain information :
Your partner to display
full year-round and
increase your visibility
No commission is
taken, neither for the host, nor for the
the holidaymaker
Tourism officials write your advertisement and answer
with all your questions
OUR KNOW-HOW AT YOUR DISPOSAL
Discover all the advantages, Charme & Traditions
Optimal visibility
Search Engine Optimization (SEO) on the 1st page of Google

E-mailing campaigns on a base of 250.000 loyal tourists

500.000 visitors/month on our site
Efficiency
Get many booking requests, even in low and mid season

Your ad is written by our teams and put online within 72 hours.
Satisfaction
Belonging to a quality network

A wall plaque at your disposal

88% of our subscribers renew

An accompaniment service available by mail and telephone
Your ad
on Charme & Traditions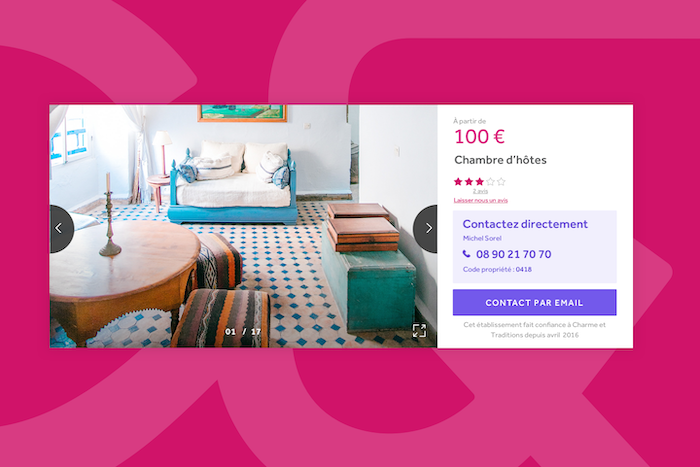 A tariff without any commission
on your bookings
An original ad
tailor-made by our specialist editors
Unlimited number of photos
to enhance your property
A guestbook
to collect the opinion of your hosts
An online schedule
to manage your bookings yourself
An interactive map
to precisely locate your property
Discover
Testimonials from our community
HOLIDAY

I've got a wedding in a few months in the middle of nowhere: it's impossible to find a hotel within 30 minutes drive. A friend of mine told me about Charme & Traditions, so I went to their website. Not only did I find a bed and breakfast right next to my wedding location, but I was also impressed by the number of references available. Simple to use and efficient, I will not fail to advise it around me, in case of a wedding in places where the hotel offer is limited''.
Diane P
OWNER

I recommend Charme et Traditions a serious, dynamic team that listens to its customers. We have been partners of Charme et Traditions since its opening in 2008 and are fully satisfied with this collaboration. It brings us a good visibility of our house, traffic on our website and many bookings. Keep it up!
Jean-Pierre P.
Owner of Nature & Lin
Proof of our effectiveness
The latest booking requests in real time
Date
Hôte
Lieu
NB NIGHTS / PERS. / WHEN
u. 12 a 2020 10:15 10h15 53s
Philipswads P.
Mas Suéjol
0 nights / 0 persons / from the 10 ,
s. 11 a 2020 00:58 00h58 29s
Douglasabony D.
Mas Suéjol
0 nights / 0 persons / from the 10 ,
[. 09 a 2020 11:13 11h13 51s
RickyAnedy R.
Mas Suéjol
0 nights / 0 persons / from the 10 ,
". 07 a 2020 18:08 18h08 35s
EugeneLek E.
Mas Suéjol
0 nights / 0 persons / from the 11 "
n. 06 a 2020 18:15 18h15 50s
Jamesbut J.
Mas Suéjol
0 nights / 0 persons / from the 10 "
u. 05 a 2020 09:33 09h33 41s
Alain T.
Chalet Haut Jura
7 nights / 7 persons / from the 8 a
s. 04 a 2020 03:33 03h33 18s
Pamellamuh P.
La Palumiane
0 nights / 0 persons / from the 11 "
s. 04 a 2020 03:25 03h25 53s
Anthonynuh A.
Mas Suéjol
0 nights / 0 persons / from the 10 ,
". 03 a 2020 14:02 14h02 59s
JustinSalry J.
Mas Suéjol
0 nights / 0 persons / from the 11 "
". 03 a 2020 08:30 08h30 24s
Pamellamuh P.
La Palumiane
0 nights / 0 persons / from the 10 "
---
Latest property reviews
of Charme & Traditions
Chantal
12 a 2020
Chambres d'hotes tres agreables. Accueil chaleureux
Paul
12 a 2020
Accueil extra et cuisine super
Antoinette
12 a 2020
Magnifique séjour
Nicolas
11 a 2020
Extra ! Marie Elise est une hôte charmante qui a su nous recevoir et nous aider dans nos péripéties
The last properties that have renewed

4 bedroom

12 hosts

No visible rooms

8 hosts
Charme & Traditions is the fruit of a furious desire for escape, a return to the roots and authenticity. It is the proof that long journeys can be made without jet lag, that a weekend is sometimes enough to discover new horizons and new traditions. Because travel had to be a luxury within everyone's reach, we bring together on the same portal all B&B owners driven by a sense of welcome and a passion for the land. In exceptional surroundings, they will help you discover the richness of our regions, which only their generosity can bring to you. With Charme et Traditions, a change of scenery is never far away.