Le Moulin de Lachaud
60.0
From
60 €

par nuit
Guesthouses
Contact us directly
Bruno Mailly
08 90 21 70 70
Property Code :
Contact by email
This establishment has placed its trust in Charme et Traditions since u 2016
Description

5 bedroom

20 hosts
Individual house, isolated, at the country

Animals allowed
For a guaranteed rest and a change of scenery, the Domaine du Moulin de Lachaud welcomes you to Sainte-Fortunade for an unique and comfortable stay in a Gallic house, rooms and loft, hosted by Armelle and Bruno. The Moulin de Lachaud estate extends over 8.5 hectares of private land where you can discover a beautiful pond within the grounds, and is located just a few minutes from the towns of Tulle and Brive la Gaillarde. You will have access to a restaurant with a covered and heated terrace by the water and a breathtaking view of the countryside. Here, the words 'calm getaway' are key to our ethos at Moulin de Lachaud. During your stay in the countryside, the estate offers you a multitude of choices; whether it is exploring the many rooms, the loft and the Gallic hut-house, which has a total capacity of 22 people, or if you want action, we offer a full program of activities. The rooms are ensuite, and offer double beds, and the greatest attention to hygene has been taken for our guests needs. Breakfast will be served from 7.30 am to 10 am on weekends and from 6.30 am to 8.30 am during the week for a great start to the day, and for lunch, you can taste our traditional, refined and inventive cuisine which will always be prepared with fresh produce and seasonal fruits and vegetables that you can enjoy for all occasions. You will enjoy the many benefits of our estate, as well as nearby, such as the various leisure activities including fishing, hiking, swimming, golf, canoeing, mountain biking and also horseback riding. Not forgetting the many concerts, shows and festivals that you can participate in, as you enjoy the cultural heritage of our local castles and museums. In addition to being composed of simple rooms for 4 to 6 people, the estate also holds a Gallic hut-house which guarantees calm and a change of scenery, reinforcing the comfort with its good insulation from the heat and the cold. Its cozy wooden interior provides all the comforts of a room well equipped and ideal for you and your friends. It also holds a loft within shaded surroundings for 4 to 10 people with the ideal equipment to satisfy your needs. This place of relaxation will give you a feeling of well being and calm.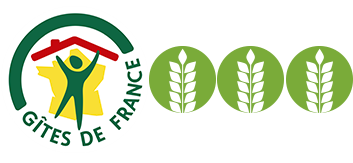 Plan
Open Google Map
Le Moulin de Lachaud
Moulin de Lachaud
19490 Sainte-Fortunade, France
Rooms details

5 bedroom
Services and equipment
Populaires
Animals allowed, private parking
Indoor equipment
Television
Outdoor equipment
Terrace, garden furnitures, petanque
Available services
Sheets and towels, region informations, seminar room
For your comfort
-
Appliances
Washing machine, dishwasher, deep freezer, microwave, oven, fridge
Nearby activities
Bookshelf, fishing, golf, hiking, horse riding
spoken languages
English, french, german
Means of payment
Cheque, holiday vouchers, bank card
Sécurité
-
Meals (check availability when booking)
Breakfast included
Lunch : as early as 20 €
Diner : as early as 20 €
Thematic stays
This establishment does not offer thematic stays
Reviews
Details of the notices

You stayed in this property ?

Leave an opinion
Baclet
16 a 2019
Séjour au Moulin de Lachaud
Degardin
26 i 2019
Sejour