Hameau de St Pierre - Conctat : 0231808210
56.0
From
56 €
Guesthouses
Contact us directly
Nelly Baratte
08 90 21 70 70
Property Code :
Contact by email
This establishment has placed its trust in Charme et Traditions since l 2014
Description

4 bedroom

13 hosts
Individual house, in a village, at the country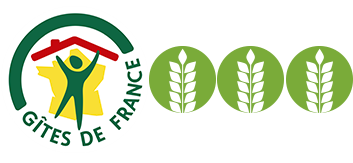 Plan
Open Google Map
Hameau de St Pierre - Conctat : 0231808210
16 route d'Audrieu
14250 Tilly-sur-Seulles, France
Rooms details

4 bedroom
Services and equipment
Populaires
Private parking
Indoor equipment
Board games
Outdoor equipment
Terrace, barbecue, garden furnitures
Available services
Sheets and towels, quotidian cleaning, region informations
For your comfort
-
Appliances
Microwave, oven, fridge
Nearby activities
Thalasso, bowling, golf, horse riding
spoken languages
English, french
Means of payment
Cheque, holiday vouchers
Sécurité
-
Meals (check availability when booking)
Breakfast included
Thematic stays
This establishment does not offer thematic stays
Reviews
Details of the notices

You stayed in this property ?

Leave an opinion
Marie et françois
08 n 2019
Nous voici de retour...
François et marie
16 a 2019
Agréable séjour chez Madame Baratte
François et marie
16 a 2019
Agréable séjour chez Madame Baratte
Michelle
17 " 2019
Exceptionnel
Aline
21 j 2018
Juste parfait!
Scheidecker
18 a 2017
Très bonne vacances 3 "Au tilleul "
Michel
04 n 2015
Trés bonne nuit
Boris
15 a 2015
endroit charmant avec accueil chaleureux
Alain et sylvie
09 a 2015
sejour ressoursant et tres agreable
Christine romain thomas
13 a 2014
Séjour très agréable en chambre d'hôtes
Jacques, fabienne, maëlle et yuna
09 a 2014
acceuille très familliale
Aline et pierre-yves
09 " 2014
Une chambre d'hôtes charmante
Marie
08 " 2014
Un séjour très agréable, excellent rapport qualité/prix
Dominique et jacques
29 2014
Jacques RIERA
Christian
26 2014
du 21/05/au24/05/2014
11 n 2014
Notre séjour s'est très bien passé. Très bon accueil.
Marie annick
19 n 2013
tres agreable
15 a 2013
Une seule envie, y retourner très vite!
Jean & lucile
18 " 2013
quelle bonne intuition d'avoir choisi cette chambre d'Hôte....
Bertrand
21 , 2013
familiale et nourrissant pour le corps et l'esprit
08 2013
Un séjour très agréable qui donne envie d'y retourner.
Michel
21 , 2013
a ne pas manquer
Michel
27 , 2012
acceuil excellent par la maîtresse de maison
Gabriel
27 , 2012
Séjour sympa, hôtesse également, bons repas normands, excellent accueil Note:10/10
15 n 2012
vous cherchez une bonne adresse! Alors en voilà une.
18 a 2012
Rapide mais agréable
18 a 2012
Très bien l'accueil, confort
20 j 2012
envie de revenir
06 j 2012
charmante chambre et accueil très conviviable
26 2012
accueil très chaleureux, chambres d'hotes accueillante, repas excellent
Jpl
25 l 2012
Ravis de notre week end et pour preuve nous y retournons en mai!
27 , 2012
parfait pour tout, accueil, propreté, chambre et petit déjeuner parfaits, à recommander avec plaisir
15 , 2012
Séjour agréable
07 , 2012
très agreable conviviale
19 l 2012
chambre d'hotes trés agréable ,à recommander sans hésiter
03 i 2012
bonne accueil,sejour agréable,bon rapport qualité prix
Catherine
05 " 2011
week end repos pour recharger les batteries
Danielle
03 n 2011
Nous avons été très bien accueilli. MERCI
Raymond
03 a 2011
Bon séjour
Leboucher
19 " 2011
MERCI
Menant dominique
04 " 2011
Merci a Mme BARATTE