A la Ferme du Bout de la Ville
68.0
From
68 €

par nuit
Guesthouses
Contact us directly
Dominique et Stéphane MICHEL
08 90 21 70 70
Property Code :
Contact by email
This establishment has placed its trust in Charme et Traditions since l 2014
Description

4 bedroom

13 hosts
Farm, in a village, at the sea

Animals allowed
Set back from the top of the cliff, we offer you a green setting with view ove the sea, semaphore, and farm of la Chapelle in Fécamp. You could whenever you like, do some hiking trails either on foot or by bicycle that we borrow you free of charge. If you feel like it, why not a petanque match in our area for playing boules or or a farniente under our old apple tree, you'll be for sure get rid of your stress. With or without your children, you could visit the horses, hens, goats or even the jenny from the farm , all of them like carotts and strokes. Some mini-shetland will enchant the children. You will then discover what a real moment of relaxation and leisure is. PRESTATIONS: -Guest table on request : € 40 per person. -Greedy plate on request : € 25 per person. -Seafood platter on request : € 40 per person.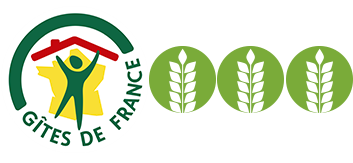 Plan
Open Google Map
A la Ferme du Bout de la Ville
425 le bout de la ville
1er ferme en rentrant dans le village
76111 Criquebeuf-en-Caux, France
Rooms details

4 bedroom
Services and equipment
Populaires
Animals allowed
Indoor equipment
Television
Outdoor equipment
Terrace, petanque
Available services
Sheets and towels, region informations
For your comfort
-
Appliances
-
Nearby activities
-
spoken languages
English, french
Means of payment
Cheque, holiday vouchers, bank card
Sécurité
-
Meals (check availability when booking)
Breakfast included
Thematic stays
This establishment does not offer thematic stays
Reviews
Details of the notices

You stayed in this property ?

Leave an opinion
15 , 2019
Patrice et Martine (12/04/2019)
Raffiot
17 . 2018
calme assuré
Dedisse
21 a 2018
Notre séjour du 14 au 16 Aout 2018
Lenz
27 j 2018
accueil super
Constantin
14 " 2018
Chambre Crin d'Or
Pinard egblomasse
23 2018
que du positif !
Carre
16 n 2017
Nous recommandons cette chambre d'hôte
Fougeray
18 j 2017
À la découverte de la côte d'Abâtre
Julie
12 2017
Super week end
Nathalie
15 i 2014
super agréable et très accueillant
Ronald
06 , 2013
un week-end magnifique
Emilie
07 " 2013
bel accueil, endroit très calme, literie propre et confortable
28 a 2013
tres bon endroit , a recommander, proprietaires charmants
14 a 2013
très sympatique
Sarah
10 a 2013
Réellement agréable
14 " 2013
Séjour original en compagnie des animaux de la ferme ! Chambre agréable. Calme très apprécié !
Elodie
16 i 2013
Très bon accueil
Nadège
29 j 2012
Très bon accueil des propriétaires
Frédéric
12 j 2012
Séjour très agréable malgres le temps maussade,l'accueil des propriétaires et leur disponibilité étaient fort agréable.
Alain
27 " 2012
chambre d'hote exceptionnelle
26 2012
excellent week end
Lydie
09 l 2012
weekend pour les 50 ans de mariage
Sylvie
22 . 2011
petit week-end surprise pour fêter 2 anniversaires qui fut excellent
Jean-marie
15 . 2011
Excellent séjour,accueil particulièrement sympathique,table d'hôte exceptionnelle.
Jean-marie
15 . 2011
Excellent séjour,accueil particulièrement sympathique,table d'hôte exceptionnelle.
01 . 2011
Séjour agréable et calme , très bonne table d'hôte.
22 n 2011
TRES BON ACCUEIL. IL PARAIT D'ETRE CHEZ NOUS
Monique
22 n 2011
trés très bien
Elisabeth
17 n 2011
Accueil chaleureux, et table d'hôtes de très bonne qualité. A refaire et à recommander
08 n 2011
formidable accueil très très chaleureux à recommander