Saint-Étienne-la-Thillaye - 14950
Chambres Deauville - St Etienne la Thill
67.0
From
67 €
Guesthouses
Contact us directly
Guy et Monique BARATTE
08 90 21 70 70
Property Code :
Contact by email
This establishment has placed its trust in Charme et Traditions since l 2014
Description

4 bedroom

9 hosts
Individual house, in a village, at the country

Chimney
In a quiet and relaxing place, as we like to meet Guy and Monique will welcome you in their half-timbered house, and where are the guest rooms at the heart of the Normandy countryside charm and where deer , chickens and pigeons-dwarf will delight children from taking a breath of fresh air. large people leave also seduced by these endearing animals, they will not remain indifferent either to the garden , which offers a relaxing space and playground with swings and slide will be a real recreation for children. 4 bedrooms are upstairs and all have a room bathroom and WC. The total capacity is 11 people, which can be an asset for a stay that we would want the picture cottages Wasteland Saint Vincent organize a room with friends and family. They also offer excellent comfort.These rooms are also very well located for visiting a region with a rich heritage. More Deauville, its boards and casino are only 8 km, enough to make the guest rooms of the Wasteland St Vincent, a destination that will soon be appreciated by young and old alike. 100m, you will find two houses 3 ears Gite de France, with a capacity of 6 people. For availability and rates, thank you to contact us at 02 31 65 22 04 / / 06 03 22 29 78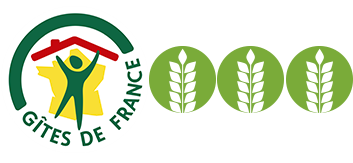 Plan
Open Google Map
Chambres Deauville - St Etienne la Thill
Le Friche St Vincent Chemin des Motteries
14950 Saint-Étienne-la-Thillaye, France
Rooms details

4 bedroom
Services and equipment
Populaires
-
Indoor equipment
Television, cable / Satellite , chimney
Outdoor equipment
Terrace, barbecue, garden furnitures
Available services
-
For your comfort
-
Appliances
-
Nearby activities
-
spoken languages
English, french
Means of payment
Cheque, holiday vouchers
Sécurité
-
Meals (check availability when booking)
Breakfast included
Thematic stays
This establishment does not offer thematic stays
Reviews
Details of the notices

You stayed in this property ?

Leave an opinion
Chaker
08 j 2018
Séjour 7 juillet 2018
27 a 2013
très bon sépour et belles visites
09 2013
tres bien, acceuil chaleureux, propre cadre exterieur agréable, à conseiller
Jenny
30 . 2012
Excellent séjour
23 a 2012
Très agréable, accueil chaleureux, propriétaires gentils
18 a 2012
Très agréable et charmant
07 a 2012
Séjour agréable , chambre confortable , propriétaire très sympathique ...
Corinne
28 , 2012
accueil souriant
28 i 2012
agréable, complet, calme, dans un coin charmant
13 n 2011
acceuil chaleureux, agréable séjour , je recommande cette maison d'hôtes
Annelise
09 j 2011
Séjour - WE du 09/08