LA BOUTARIE - Chambre d'Hôtes
72.0
From
72 €
Guesthouses
Contact us directly
Pascale Fond
08 90 21 70 70
Property Code :
Contact by email
This establishment has placed its trust in Charme et Traditions since l 2014
Description

5 bedroom

18 hosts
Farm, in a village, at the country

Chimney
In the small village of Farnay, in the heart of the Parc Naturel du Pilat, 5 minutes from the A47 motorway between Saint-Etienne and Lyon, awaits you a warm welcome in five guest bedrooms, within the owner's farm. You will be amazed by the environment of the house and the quality of its services: personalized decorations, surfaces, volumes, sanitary facilities, internet access in each room, stone, wood. And comfort as well! To check availability, please contact Pascale at 06 80 96 97 12 Adapted to all your needs: Holidays, Work, Family, with friends... RATES, BREAKFAST OFFERTS ! Free WIFI ! - For 1 person: 62€ - For 2: 72€ - For 3: 88€ - For 4: 104€ and - For 5: 120€ In the summer: - For 1 person: 66 Euros - For 2: 77 euros - For 3: 104 euros - For 4: 109 euros - For 5: 125€.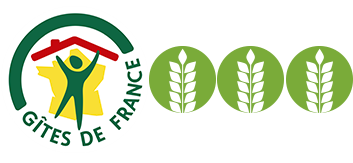 Plan
Open Google Map
LA BOUTARIE - Chambre d'Hôtes
456, rte des Quatre Vents
42320 Farnay, France
Rooms details

5 bedroom
Services and equipment
Populaires
Accessible without car, disabled access, private parking
Indoor equipment
Television, board games, chimney
Outdoor equipment
Terrace, barbecue, garden furnitures
Available services
Sheets and towels, quotidian cleaning, region informations
For your comfort
-
Appliances
Dishwasher, microwave, oven
Nearby activities
Hiking, horse riding, hunting
spoken languages
English, french
Means of payment
Cheque, holiday vouchers
Sécurité
-
Meals (check availability when booking)
Breakfast included
Thematic stays
De - de 20 personnes
A little of change in our habits: and why no family meeting, or of work in guest house!
Our dining room can welcome up to 15 persons and the lunch maybe taken on the spot.
Furthermore, coffee(café) and delicacies shall wait for you from your arrival!
Schedule of the working meetings: 10 hours at 5 pm (adaptable according to needs)
Reviews
Details of the notices

You stayed in this property ?

Leave an opinion
Dimier
01 , 2019
Accueil sympathique
Rougetet
02 " 2019
Chapeau !
Janaudy
18 n 2019
week end
Chiroussel
10 " 2017
Excellent week-end !
Bourguignon
09 . 2017
Location pour l'Enduro LA PILATRACK
Torregrossa
16 n 2017
Laurent TORREGROSSA
Pierre
21 a 2017
Séjour du14 au 15 août 2017
Bayet
22 j 2017
Une bonne adresse
Trellu
08 2017
séjour très agréable
Aurelie
28 j 2013
Gite magnifique
19 j 2013
très bon séjour
Bertrand
03 j 2013
Reposant , très accueillant et original
20 , 2013
belle renovation
13 . 2012
Bon accueil, gîte magnifique, petit déjeuner super
Yvelise
16 n 2012
excellent sehour
25 a 2012
séjour très court mais très bien!
17 a 2012
Très bon séjour,bon accueil, jolies chambres spacieuses et confortables.
17 a 2012
Très bon séjour,bon accueil,jolies pacieuses et confortables.Une suggestion amicale:la cour intérieure serait plus accueillante dé
28 j 2012
Warm and welcoming, spacious and comfortable, friendly and helpful - delightful.
A very happy choice for us.
Michele
08 a 2012
tout est parfait
Gayle
28 j 2012
Extremely welcoming, helpful hostess whose Englisah was better than mine. Rooms were well appointed in a peaceful working dairy farm environment. On a
Marie flore
23 " 2012
Visite safari de Peaugres puis parc zoologique dela plaine ST Martin
16 " 2012
séjour conforme à nos attentes et au descriptif de l'annonce
Corinne
13 , 2012
Très bon acceuil
Eliane
31 . 2011
Excellent accueil de Mme Fond. Chambre calme, propre et spacieuse, très bonne literie, SDB moderne et bien équipée. Petits déjeûners délicieux.
17 n 2011
A recommander..
20 a 2011
Etpa sur le trajet de retour de vacances
01 a 2011
Une étape très profitable sur la route du retour d'un séjour à l'étranger !
Richard
28 j 2011
One night stay on our journey to Provence with 4 teenage children
Madame Fond gave us a really friendly welcome, including cold beer and fresha apple juice. Beautifully converted barn for the accomodation, and with breakfast included was fantastic value. Very Highly Recommended Merci !
26 j 2011
Accueil cfhaleureux, calme assuré dans des chambres modernes à la décoration très chaude.
31 j 2011
excellent séjour
Gérald
22 j 2011
chambre d'hôtes très agréable et très accueillante, merci beaucoup
Jyliane
22 j 2011
magnifique
24 " 2011
Chambre spacieuse et confortable dans une ferme
Josiane
27 " 2011
convivialité
Laurence
31 , 2010
Genial
02 " 2010
une bonne surprise
Bernard
02 , 2010
calme et charme