Maison Cognet - le paradis des randonneurs! 2 NUITS MINIMUM
70.0
From
70 €

par nuit
Guesthouses
Contact us directly
Bénédicte Cognet-Mourges
08 90 21 70 70
Property Code :
Ce propriétaire ne souhaite être contacté que par téléphone
This establishment has placed its trust in Charme et Traditions since l 2014
08 90 21 70 70
Property Code :
Ce propriétaire ne souhaite être contacté que par téléphone
Description

1 bedroom

3 hosts
Individual house, in a village, at the country

Chimney
Call us on + 336 98 47 54 48 or + 334 70 41 88 28 maison.cognet@free.fr Billowing hilly pastures surround thje hamlet with sensuality.Here built in 1886 as a rich man's summer place is a generous sophisticated house with original panelling and wide fire place.Alone up steep shiny stairs,the guest's space is a sweep of pine floor and ceiling;light floods in past royal blue curtains,big pine bed,old chest;a proud tree shades the splendid shower room.Deep rest; super breakfast and conversation.Romanesque jewels to visit in the region.15 kms from Vichy,nice bath and thalassa therapie.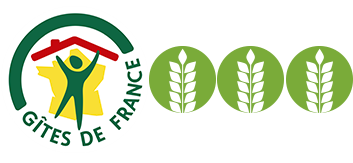 Plan
Open Google Map
Maison Cognet - le paradis des randonneurs! 2 NUITS MINIMUM
Maison Cognet
Hameau Cognet (15km de Vichy)
03300 La Chapelle, France
Rooms details

1 bedroom
Chambre bleue - 1 single bed - 1 double bed

See details

Replier
A big pine double bed, blue curtains , a nice sitting corner, large windows to look in the garden or in the country. Private shower room and WC
Équipements
Fridge, hairdrier, baby bed, restroom, shower
Details of prices per night
To book this room and find out about availability
08 90 21 70 70
Property Code :
Ce propriétaire ne souhaite être contacté que par téléphone
Services and equipment
Populaires
Private parking
Indoor equipment
Board games, chimney
Outdoor equipment
Terrace, barbecue, garden furnitures, petanque
Available services
Sheets and towels, quotidian cleaning, guided promenades, activity / Training, region informations
For your comfort
-
Appliances
-
Nearby activities
Bookshelf, thalasso, casino, ski, fishing, golf, hiking, horse riding, hunting, nautical sports
spoken languages
English, french, german, spanish, italian
Means of payment
Cheque
Sécurité
-
Meals (check availability when booking)
Breakfast included
Diner : as early as 15 €
Reviews
Details of the notices

You stayed in this property ?

Leave an opinion
Alain
07 " 2021
accueil très chaleureux
Simone
15 j 2019
Très agréable
Liliane
16 . 2018
Quel agréable séjour
Forton
01 j 2018
monsieur et madame
Mourges
29 l 2016
Super week-end à la campagne
Micheline
25 a 2015
Micheline et Florian séjour du 17 au 24 août
Millescamps
24 a 2015
sejour du 14 et 15 aout 2015
Fabienne
15 n 2014
5 étoiles!!
Mikael
10 n 2014
idéal pour le calme et les amoureux de la nature
Fabienne
08 n 2014
Une excellente adresse!!
Agnès
31 a 2014
Très bon séjour
Ina
01 j 2014
Unforgettable
V.
30 " 2014
Idéal pour se ressourcer
Sébastien
09 2013
Chambre spacieuse dans une maison de caractère
Philippe
23 l 2013
2 NUITS AU VERT
Maryse
01 a 2012
de passage pour une nuit ...
Sabine
15 " 2012
Un accueil très chaleureux dans une très belle région
Dominique et christian
26 2012
Séjour inoubliable.
Philippe
17 a 2011
Un p'tit coin de paradis au bout du monde
David
24 n 2011
highly recommended
Anne-lise
03 n 2011
acceuil chaleureux et cadre reposant.
30 j 2011
tranquil, relaxing and just what we were looking for.
We thoroughly enjoyed our stay at Maison Cognet; it was wonderful. We were looking for a piece of France off the beaten track and we found it! Madame Mourges has a beautiful home and we felt very welcome. The room was spacious and perfect for us and our baby. The food was delicious and plentiful. I would have loved to stay longer but we had continue our travels. We will definitely recommend it.
Guy
02 j 2011
ACCUEIL ET CALME
12 , 2011
un séjour plain de charme
Michele
07 , 2011
une etape agreable pleine de charme et de convivialité apres un long trajet
David & margaret
14 j 2009
Congratulation
Christine and malcom
01 a 2009
Thankyou for a most enjoyable stay