Les Ganeries
57.0
From
57 €

par nuit
Guesthouses
Contact us directly
Josiane Jeulin
08 90 21 70 70
Property Code :
Contact by email
This establishment has placed its trust in Charme et Traditions since l 2014
Description

4 bedroom

12 hosts
Individual house, in a city, at the country

Animals allowed, chimney, swimming pool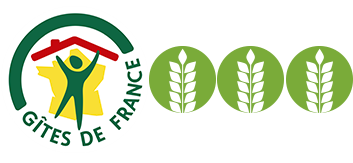 Plan
Open Google Map
Les Ganeries
Lieu Dit les Ganeries
41170 Sargé-sur-Braye, France
Rooms details

4 bedroom
Services and equipment
Populaires
Animals allowed
Indoor equipment
Board games, chimney
Outdoor equipment
Table tennis, terrace, swing, garden furnitures
Available services
Sheets and towels, region informations
For your comfort
Swimming pool
Appliances
-
Nearby activities
Bookshelf
spoken languages
English, french
Means of payment
Cheque, holiday vouchers
Sécurité
-
Meals (check availability when booking)
Breakfast included
Thematic stays
This establishment does not offer thematic stays
Reviews
Details of the notices

You stayed in this property ?

Leave an opinion
Lafoz
06 " 2018
une nuité (27 mai 2018)
Benjamin
20 2018
Séjour MotoGP
Stehlin
23 j 2017
les ganeries
Gabriele
13 , 2017
superbe
Gabriele
13 , 2017
superbe
Jean michel
07 , 2013
Excellent
Marie-gabrielle
28 n 2013
Accueil chaleureux, environnement très sympa, très soigné.
22 " 2013
hotes tout à fait sympathiques
10 l 2013
Trés bon accueil, des petits déjeuners merveilleux et des chambres spacieuses.
13 j 2012
toujours aussi accueillant et agréable
Lefevre
12 a 2011
Séjour trop court, une nuit pour étape vers la Bretagne, accueil trés chaleureux et convivial, petit-déjeuner excellent, chambre trés agréable.
25 a 2011
un sejour très reposant...plein de charme...
05 a 2011
tres bon séjour tres beau cadre , acceuille chaleureu , petit dejeuné tres complet
Rollin
15 j 2011
NON EFFECTUE
Rollin
15 j 2011
annulation
René
15 a 2008
étape pour la Bretagne