Les Escladines - Contact 04 73 21 13 02
67.0
From
67 €

par nuit
Guesthouses
Contact us directly
Sylvie FEREYROLLES
08 90 21 70 70
Property Code :
Contact by email
This establishment has placed its trust in Charme et Traditions since l 2014
Description

5 bedroom

11 hosts
Farm, in a village, at the country

Chimney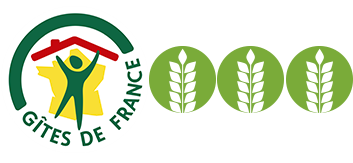 Plan
Open Google Map
Les Escladines - Contact 04 73 21 13 02
Escladines
63690 Tauves, France
Rooms details

5 bedroom
Services and equipment
Populaires
Private parking
Indoor equipment
Board games, chimney
Outdoor equipment
Garden furnitures
Available services
Quotidian cleaning, region informations
For your comfort
-
Appliances
Microwave, fridge
Nearby activities
Thalasso, casino, bowling, ski, fishing, golf, hiking, horse riding
spoken languages
English, french
Means of payment
Cheque, holiday vouchers
Sécurité
-
Meals (check availability when booking)
Breakfast included
Diner : as early as 24 €
Thematic stays
This establishment does not offer thematic stays
Reviews
Details of the notices

You stayed in this property ?

Leave an opinion
Joël
01 n 2020
A conseiller vivement.
07 , 2018
Séjour de 48 heures
Maryse
14 n 2016
Super séjour
Claude
14 n 2015
Un séjour de rêve
Gilbert et ghislaine
28 j 2013
Un petit coin de paradis ça existe encore ...
Gabriel joseph
09 n 2013
Réception, confort,,table. La meilleure chambre d'hôtes que nous ayons fréquentée
Noelle
20 n 2013
tres beau sejour
Noelle
20 n 2013
tres beau sejour
Philip
06 n 2013
Our third visit and we love it!
Sylvie makes you feel so welcome. The rooms are very comfortable and the food is excellent. We had a very relaxing break at Les Escladines and hope to return.
Jean-lou
18 2013
suuuuuperrrrr......
Wymeersch
04 2013
Avec Sylvie le sens du mot hospitalité prend toute sa valeur .
Maeva
28 , 2012
Super Séjour aux Escladines!
Pierre, violette,guy, yolande, philipe et mireille
26 , 2011
Séjour fabuleux
Jérôme
26 l 2011
Super week-end dans le massif du sancy