Aux Sabots du Causse Correzien
60.0
From
60 €

par nuit
Guesthouses
Contact us directly
Marie-France et Eloi LALLE
08 90 21 70 70
Property Code :
Contact by email
This establishment has placed its trust in Charme et Traditions since l 2014
Description

5 bedroom

13 hosts
Individual house, in a village, at the country

Swimming pool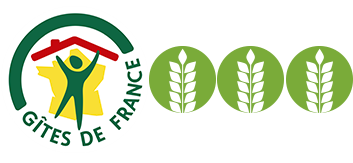 Plan
Open Google Map
Aux Sabots du Causse Correzien
20 Rue des Vieux Fours lieu dit Belveyre
19600 Nespouls, France
Rooms details

5 bedroom
Services and equipment
Populaires
Private parking, home bikers
Indoor equipment
Board games, wireless
Outdoor equipment
Terrace, garden furnitures, plancha
Available services
Sheets and towels, guided promenades, region informations
For your comfort
Swimming pool
Appliances
Microwave, fridge, kettle
Nearby activities
Fishing, golf, hiking, horse riding, nautical sports, beach, nature walks, boat tour, mountain bike, kayak, swimming, restaurants, castles, lake
spoken languages
French
Means of payment
Cheque, holiday vouchers, cash
Sécurité
First aid kit
Meals (check availability when booking)
Breakfast included
Thematic stays
This establishment does not offer thematic stays
Reviews
Details of the notices

You stayed in this property ?

Leave an opinion
Lily
13 n 2020
Un séjour plus que parfait
Owner's response :
Merkiiii Lily
Hihihihi!! Çà me rappelle aussi quelque chose ce titre ''Un séjour plus que parfait". Ah non, je me trompe, c'est ''presque parfait'', Purée là c'est pas ''presque'' mais c'est ''plus'', C'est gentil, mais je doute que la perfection existe, alors là y ajouter ''plus'' . Woouuuafff! Bon je m'égare.
Plus sérieusement, Merci à toi, à tes enfants super bien élevés et à ton cher et tendre qui à refait le monde avec Eloi. Quel bonheur des discutions comme celles là.
A une prochaine.
Christelle
12 n 2020
Simple, Chaleureux, cool, la vraie vie quoi !
Owner's response :
Merkiiii Christelle pour tous ces gentils mots les uns derrière les autres.
J'espère à une prochaine.
Owner's response :
Merkiiii ma louloute pour tous ces mots supers zentils.
Vous avez été ô top vous aussi .
Mais la personne que j'ai le plus apprécié c'est .........Khéops. Ce super Yorkinou trop chou.
Glouppss, je sors! je plaisante vous aussi bien sur.
Grrrrooooos Bisous à vous. Et pleins de caresses et léchouilles de notre part mais également de son amoureuse Lyana.
Anne
29 a 2020
Formidable
Owner's response :
Merci Agnès de ce super ressenti.
Nous espérons vous revoir, surtout les 2 choupinettes (filles adorables et bien élevées)
Gros bisous à vous 4
Olivier
21 a 2020
Tout était parfait !
Owner's response :
Amis motards salut !!!!
Découvrir un tel commentaire au réveil, en ouvrant le PC voila de quoi mettre en forme pour la journée.
Que répondre? Sinon merci. Ce fut plus qu'un réel plaisir pour nous aussi de vous rencontrer vous savez! 15 jours supers
Jeff s'excuse de n'avoir pu rouler avec vous et moi aussi Snnniiiff. Mais une prochaine.
Bisous à vous 2
Sylviane et jean-daniel
10 a 2020
De supers vacances.
Owner's response :
Merci mes ptis loulous.
Au plaisir de vous revoir
Bisous
Jeanclaude
09 a 2020
FORMIDABLE
Owner's response :
Tout cela est retourné mon cher Corrézien.
A vous revoir
Cdg
09 a 2020
"Un coeur correzien au coeur de la Corrèze"
Owner's response :
Merci de ce sympathique ressenti de vous 3. Il ne faut pas trop me jeter de fleurs, je ne vais plus pouvoir passer la porte MDR.
Ce fut un réel plaisir que de vous avoir durant ces quelques jours (trop court) mais tellement intenses.
Je vous embrasse et faites de douces et tendres caresses à ptite Souris.
Au plaisir de vous revoir
Pierre & françoise
05 n 2019
Séjour agréable
Gaëtan et yolande
26 a 2019
Une semaine fin juillet-début août 2019
Roland et elodie
18 a 2019
Rencontre Corrézienne
Olivier
12 j 2019
sortie moto Ascension
Robert
20 a 2018
Superbe séjour !!!
François xavier
10 a 2018
Séjour merveilleux
Julie
14 a 2017
très bon séjour
Sylvie
05 j 2017
Une très bonne adresse
Maryline
09 " 2017
Accueil très chaleureux
Joelle
15 j 2015
comme à la maison !
Pierre
12 j 2013
Que du bonheur
François xavier
02 a 2013
Des moments de détente, de calme et de repos. Convivialité et chaleur humaine.
Michel
10 a 2013
Super séjour!