La Bihourderie
70.0
From
70 €

par nuit
Guesthouses
Contact us directly
Naomi BERTHONNEAU
08 90 21 70 70
Property Code :
Contact by email
This establishment has placed its trust in Charme et Traditions since l 2014
Description

5 bedroom

15 hosts
Farm, isolated, at the country

Chimney, piano
La Bihourderie is a farmhouse draped in ivy and full of character. Its architecture is typical of the Tourangelle region and it is situated in the midst of a wooded park of 5000 m². Its history dates back to the 13th century when it was once home to the Bohors who trained knights for jousting tournaments. In the beginning of the 1990's it was renovated and converted to a bed and breakfast. It is here in total peace and quiet, in the open countryside, that we invite you to come and taste the pleasures of central France. La Bihourderie is located in the heart of the Loire valley at 25 km to the south of Tours and at only 10 km from Loches. An ideal location in a region rich in culture and heritage beyond compare. You can, at leisure, explore the châteaux (castles) of the Loire, the homes of writers like Balzac, Descartes, Ronsard and Rabelais and also the numerous abbeys and gardens of the Loire Valley. Touraine has several outdoor activities to offer too, numerous cycling trails, canoeing, horseback riding, ULM, helicopter tours etc… Awarded several times by the Gîtes de France association, due to the diversity of its plantations, the garden offers you the perfect setting to relax in. Enjoy a game of boules or an afternoon lazing in the hammock or in the garden chairs on the terrace overlooking the sunflower or wheat fields. Our 5 guest rooms are independent from the main house. They all share a large drawing room equipped with a kitchen area. You will find tea and coffee making facilities, a microwave, a traditional oven, two electric plates, refrigerator and kitchenware. The guest rooms are spacious and each one has its own shower/bath room. To ensure a good night's sleep they all have a large double bed (160 x 200 cm).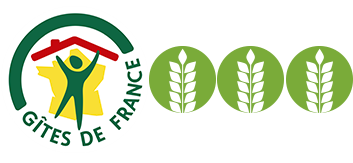 Plan
Open Google Map
La Bihourderie
La Bihourderie
37310 Azay-sur-Indre, France
Rooms details

5 bedroom
Services and equipment
Populaires
Private parking
Indoor equipment
Board games, chimney, piano
Outdoor equipment
Table tennis, terrace, swing, garden furnitures
Available services
Sheets and towels, quotidian cleaning, region informations
For your comfort
-
Appliances
Deep freezer, microwave, oven, fridge
Nearby activities
Bookshelf
spoken languages
English, french
Means of payment
Cheque, holiday vouchers
Sécurité
-
Meals (check availability when booking)
Breakfast included
Diner : as early as 25 €
Thematic stays
This establishment does not offer thematic stays
Reviews
Details of the notices

You stayed in this property ?

Leave an opinion
Michel
03 a 2019
Soirée étape en famille
Bertau
28 , 2018
Noel 2018
Daniel
01 2018
Super week-end
Duverger
30 " 2017
Site plaisant mais accueil froid
Lebegue
21 a 2017
Reposant et agréable
Frédéric
30 , 2017
Excellent accueil
Gaëtan
12 l 2017
Très bien
Gaëtan
12 l 2017
Très bien
Gérard
20 " 2013
excellent séjour, chambre très agréable, accueil chaleureux, très bon petit déjeuner
26 . 2013
Excellent accueil - chambres spacieuses et confortables - Petit déjeuner frais et copieux
05 a 2013
sejour trés agréable dans une merveilleuse chambre . C'était parfait .
Isabelle
15 " 2013
Tres bon et agréable séjour - Tres bon accueil
Annie
30 . 2012
Très agréable, propriétaires charmants, chambre très confortable et table d'hôte excellente
Pierre
28 , 2012
calme confort de la chambre amabilite pdj excellent
Laurent
11 " 2011
Séjour très agréable, calme et très bien accueilli